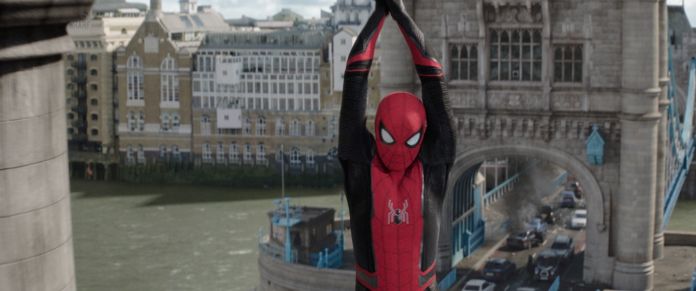 Spider-Man su Sky Cinema i film della saga con la prima tv di Far From Home il 16 marzo. Sky Cinema Spider-Man dal 14 marzo
Spider-Man ci salverà dalla quarantena? Sicuramente no, anche perchè non ne avrebbe i poteri, ma potrà alleviare i giorni da reclusi con i suoi film. Da sabato 14 febbraio Sky Cinema Collection diventa Sky Cinema Spider-Man con i film con protagonista il supereroe, il tutto per arrivare a lunedì e alla prima tv di Spider-Man Far From Home, secondo film con protagonista Tom Holland. Tutti i titoli disponibili anche su Sky On Demand, Sky Go in mobilità e in streaming su Now Tv.
Spider-Man Far From Home lunedì 16 marzo
Lunedì 16 marzo andrà in onda in prima tv Spider-Man Far From Home, alle 21.15 su Sky Cinema Uno e alle 21.45 su Sky Cinema Spider-Man, l'ultimo capitolo cinematografico dedicato al supereroe mascherato. Tom Holland torna a indossare la tuta dell'Uomo Ragno nello spettacolare campione d'incassi con Jake Gyllenhaal, Samuel L. Jackson, Jon Favreau, Marisa Tomei e Zendaya. Peter Parker è in gita in Europa insieme al fidato amico Ned e alla sua classe. Ma una nuova minaccia, gli Elementali, insorge dalle viscere del pianeta, e Peter è chiamato a supporto di un eroe in visita da una Terra parallela, Quentin Beck. Il film è disponibile on demand anche in 4K HDR con Sky Q satellite.
I Film su Sky Cinema Spider-Man
Al canale 303, on demand e su Now Tv tutti i film dell'eroe a partire dalla trilogia diretta da Sam Raimi, che vede Tobey Maguire vestire la tutina attillata dell'Uomo Ragno e Kirsten Dunst in quelli dell'amata Mary Jane: Spider-Man, Spider-Man 2 e Spider-Man 3.
Non mancheranno nemmeno i due film diretti da Marc Webb The Amazing Spider-Man e The Amazing Spider-Man 2 Il potere di Electro, con Andrew Garfield pronto a indossare il costume rossa e blu, mentre il personaggio di Gwen Stacy è affidato a Emma Stone. Presente anche il film d'animazione premiato con l'Oscar nel 2019 Spider-Man Unuovo Universo, la pellicola dedicata all'acerrimo nemico di Spider-Man Venom con Tom Hardy e anche il primo dei due film con protagonista Tom Holland, Spider-Man: Homecoming.