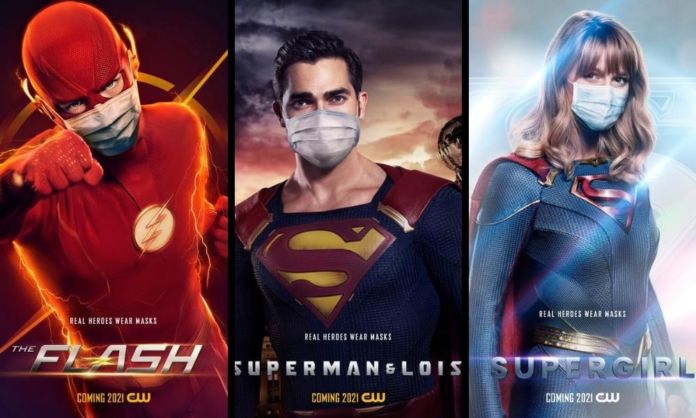 Poster con mascherine per i supereroi The CW – Le notizie del 4 agosto
Divertimenti d'agosto per The CW che rilascia i poster delle sue serie tv DC con gli eroi mascherati con le mascherine perchè "Real Heroes Wear Masks" I veri eroi indossano le mascherine, un modo per supportare anche tra i più giovani le attività di protezione anti-Covid 19.
Tutti coinvolti Supergirl, DC's Legends of Tomorrow, The Flash, Black Lightning, Stargirl, Superman & Lois in attesa di tornare sul set e in onda nel 2021 con The CW che come Fox non ha forzato il palinsesto autunnale riempiendolo di serie acquisite lasciando novità e ritorni per il prossimo anno. The Flash e Supergirl (come Riverdale) hanno visto la loro produzione bloccata dal Covid. Tra le serie elencate c'è Stargirl che con la seconda stagione diventerà un'esclusiva The CW dopo esser stata nella prima stagione in co-abitazione con DC Universe.
Notizie serie tv 4 agosto
Amazon rinnova Hunters per una seconda stagione
In Treatment e Miracle Workers hanno ricevuto incentivi fiscali dallo stato della California. La notizia conferma la nuova stagione della serie HBO di cui però non ci sono altri dettagli; inoltre anticipa lo spostamento di set dalla Repubblica Ceca delle prime due stagioni alla California per Miracle Workers.
Il regista di Hong Kong Wong Kar Wai sta lavorando a Blossoms Shanghai che sarà la sua prima serie tv. Al centro la crescita della città negli anni '90, protagonista Mr Bao un milionario che ha costruito da solo la sua fortuna ed è passato da giovane opportunista con un passato turbolento a uno dei più ricchi della città.
La Appian Way di Leonardo DiCaprio e Jennifer Davisson ha firmato un accordo pluriennale con Apple per lo sviluppo di progetti tv e documentari.
StarzPlay ha ordinato alcuni progetti originali messicani e spagnoli che andranno su StarzPlay in SudAmerica, e alcuni su Pantaya in Spagna e Starz negli USA. Tra questi originali c'è Nacho Vidal, An Industry XXXL sulla leggendaria stella del porn0 spagnola; Express un thriller di Mediapro Studio che racconta il caso di rapidi rapimenti per rapidi riscatti; Senorita Mexico sull'addestramento per diventare Miss Messico negli anni'80 e Toda La Sangre adattamento dei romanzi di Bernardo Esquinca con al centro il giornalista Casasola.