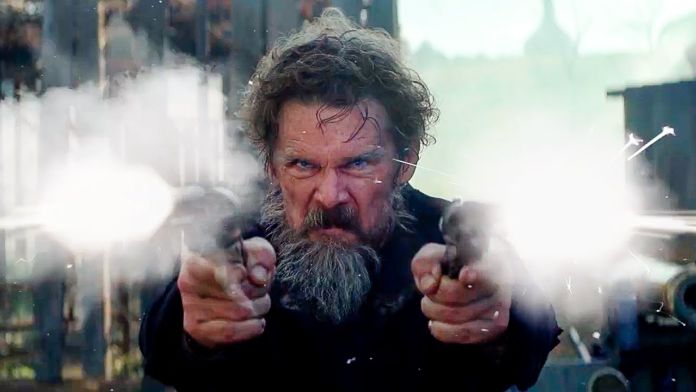 The Good Lord Bird, il trailer della miniserie Showtime con Ethan Hawke ambientata nell'era del Bleeding Kansas. Dal 9 agosto 4 ottobre su Showtime e dal 7 su Sky Atlantic in Italia
Update 16 settembre: The Good Lord Bird in Italia su Sky Atlantic e Now Tv dal 7 ottobre a 3 giorni dagli USA.
Prevista inizialmente per agosto, la miniserie The Good Lord Bird con Ethan Hawke  debutterà il 4 ottobre su Showtime. Protagonista è John Brown, un abolizionista della schiavitù che ha organizzato l'attacco alla U.S. Armory at Harperts Ferry nel 1859, che è servito come miccia per lo scoppio della Guerra Civile americana.
The Good Lord Bird è un adattamento del romanzo del 2013 di James McBride. La serie è raccontata dal punto di vista di Henry Shackleford (Joshua Caleb Johnson), conosciuto come "Little Onion", uno schiavo che insieme a John Brown ha vissuto durante il periodo del "Bleeding Kansas", un era in cui lo stato americano è diventato un campo di guerra tra le forze pro-schiavitù e gli anti-schiavitù. Onion ha incontrato figure storiche come Frederick Douglass e Harriet Tubman. John Brown, invece, è stato giustiziato per tradimento e omicidio nel 1859.
Ethan Hawke, parlando del suo personaggio a gennaio ai TCA, ha detto: "per la gente viene visto come una persona folle. Se leggi le sue lettere dalla prigione, prima della morte, si capisce che in realtà non era un folle, ma il contrario. Può non piacervi o potete non credere alla sua causa, ma era una persona sana di mente. Erano lettere ben scritte e molto convincenti." E' considerato un folle: "perchè ha ucciso un sacco di persone", continua Hawke.
Per prepararsi al ruolo, l'attore ha preso spunto dal nonno texano: "è cresciuto in una fattoria che coltivava noccioline in Texas. Quando parlava, in realtà urlava."
Nel cast della serie, oltre a Ethan Hawke, troveremo: Ellar Coltrane, Hubert Point-Du Jour, Beau Knapp, Nick Eversman, Jack Alcott e Mo Brings Plenty. Nella serie ci sarà anche Daveed Digs (Hamilton) David Morse, Steve Zahn, Maya Hawke, Wyatt Russell e Orlando Jones.