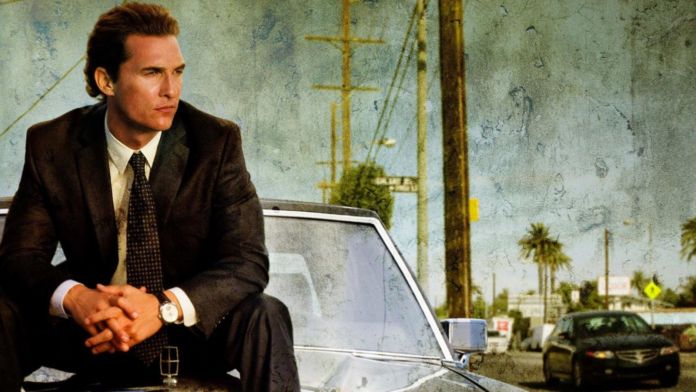 The Lincoln Lawyer stasera giovedì 4 giugno su Rai 4 il film tratto dal romanzo di Michael Connelly. Trama e trailer
Una serata all'insegno del giallo su Rai 4 quando giovedì 4 giugno sarà in onda The Lincoln Lawyer un legal thriller ispirato al romanzo Avvocato di difesa di Michael Connelly. David E. Kelley ha preparato una serie tv ispirata al film e al romanzo ma non è stata ordinata da CBS quindi il progetto è attualmente accantonato.
Il film ha incassato 86 milioni di dollari in tutto il mondo di cui 58 nei soli Stati Uniti. Il protagonista è interpretato da Matthew McConaughey.
The Lincoln Lawyer la trama del film stasera su Rai 4
Mick Haller è un avvocato di Los Angeles che difende piccoli criminali e donne di malaffare. Si sposta da una parte all'altra della città a bordo della sua Lincoln targata NTGUILTY (abbreviazione di "not guilty", "non colpevole") che è anche il suo studio. Un giorno viene incaricato di rappresentare un ricco playboy accusato di aver aggredito e ucciso una prostituta, ma che si dichiara innocente.
La procura distrettuale, per la quale lavora la ex moglie di Haller, insiste però con le accuse e quindi si apre il processo. Dalle ricerche effettuate sembra emergere l'innocenza dell'imputato e a Heller torna alla mente un caso analogo…
Il cast
Matthew McConaughey: Mickey Haller
Marisa Tomei: Margaret "Maggie" McPherson
Ryan Phillippe: Louis Ross Roulet
William H. Macy: Frank Levin
Josh Lucas: Ted Minton
John Leguizamo: Val Valenzuela
Michael Peña: Jesus Martinez
Bob Gunton: Cecil Dobbs
Frances Fisher: Mary Windsor
Bryan Cranston: detective Lankford
Trace Adkins: Eddie Vogel
Laurence Mason: Earl
Margarita Levieva: Regina Reggie Campo
Pell James: Lorna
Shea Whigham: Dwayne Jeffrey "DJ" Corliss
La regia del film è di Brad Furman, la sceneggiatura è di John Romano.
Dove lo trovo in streaming
The Lincoln Lawyer è in streaming già da ora su Rai Play, inoltre è a noleggio su Apple Tv, Google Play/YouTube, Chili e Rakuten Tv.