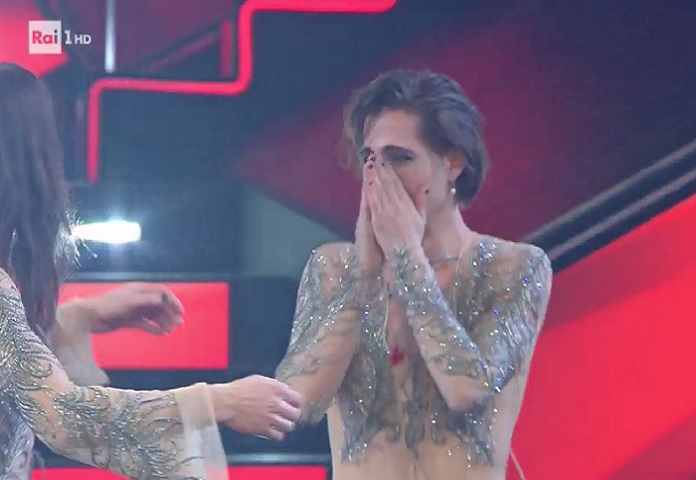 Classifica di Sanremo 2021 sera per sera: i Maneskin vincono il Festival
Giorno per giorno la classifica delle varie serate del Festival di Sanremo per arrivare fino alla scoperta del vincitore del Festival. Perchè oltre lo spettacolo, oltre i monologhi c'è la gara vera e propria che dovrà portare a un vincitore. Sanremo 2021 è in onda da martedì 2 marzo 2021 a partire dalle 20:30 con il Prima festival.
La Classifica Finale
Il 71° Festival di Sanremo è vinto dai Maneskin, sul podio al termine dell'ultima serata vanno all'ultimo scontro con Fedez e Francesca Michielin ed Ermal Meta in una classifica data dalla media delle varie serate (prima e seconda con giuria demoscopica, terza con l'orchestra, quarta sala stampa, quinta televoto guarda qui), poi i 3 del podio si sono sfidati nuovamente con votazione decisa tra televoto 34%, sala stampa 33% demoscopica 33%.
Le percentuali dei primi 3 posti sono stati Maneskin 40.7%, Francesca Michielin e Fedez 30.5% e Ermal Meta 28.8%. Nella giornata di domenica saranno diffusi i dati specifici. (qui il momento della proclamazione da RaiPlay, qui l'ultima esibizione). Update: svelati i dati definitivi nell'ultima serata il solo televoto aveva messo Michielin e Fedez al primo posto seguiti da Maneskin e Ermal Meta. Nella finalissima a 3 vediamo come è andata nelle diverse giurie (qui il dato pubblico)
Demoscopica 33%
Ermal Meta 33.89%
Michielin/Fedez 33.1
Maneskin 32.9%
Sala stampa Tv Radio Web 33%
Maneskin 35.1%
Ermal Meta 34.7%
Michielin/Fedez 30.1%
Televoto 34%
Maneskin 53.5%
Michielin/Fedez 28.2%
Ermal Meta 18.2%
Classifica finale a 26
Maneskin 40.6%
Michielin e Fedez 30.4%
Ermal Meta 28.8%
Colapesce e Dimartino
Irama
Willy Peyote
Annalisa
Madame
Orietta Berti
Arisa
La Rappresentante di Lista
Extraliscio feat Davide Toffolo
Lo Sato Sociale
Noemi
Malika Ayane
Fulminacci
Max Gazzè
Fasma
Gaia
Coma_Cose
Ghemon
Francesco Renga
Gio Evan
Bugo
Aiello
Random
Gli altri premi: Willie Peyote vince il Premio della Critica Mia Martini; il Premio Lucio Dalla della Sala Stampa va a Colapesce Di Martino con 21 preferenze su 98; il premio Sergio Bardotti al Testo assegnato dalla commissione musicale è andato a Madame; il premio Bigazzi alla miglior composizione musicale assegnato dall'Orchestra è andato ad Ermal Meta.
La classifica Generale (dopo la quarta serata)
Dopo la quarta serata questa è la classifica generale composta da voti della giuria demoscopica (prime due serate), orchestra (terza) e sala stampa (quarta)
Ermal Meta
Willy Peyote
Arisa
Annalisa
Maneskin
Irama
La Rappresentante di Lista
Colapesce e Dimartino
Malika Ayane
Noemi
Lo Sato Sociale
Orietta Berti
Extraliscio feat Davide Toffolo
Max Gazzè
Fulminacci
Gaia
Michielin e Fedez
Madame
Fasma
Ghemon
Francesco Renga
Coma_Cose
Gio Evan
Bugo
Random
Aiello
Gaudiano vince le nuove proposte
Classifica Sanremo 2021 Quarta serata
Ecco come la Sala Stampa ha votato nella quarta serata
Classifica Sanremo 2021 – Serata Cover
I 26 cantanti si sono esibiti in una serata con Cover di canzoni italiane e alcuni ospiti, a votare l'orchestra di Sanremo. Ecco la classifica della serata vita da Ermal Meta con Caruso
Ermal Meta con Napoli Mandolin Orchestra: Caruso (Lucio Dalla)
Orietta Berti con Le Deva: Io che amo solo te (Sergio Endrigo)
Extraliscio feat Davide Toffolo con Peter Pichler Medley Rosamunda (Gabriella Ferri)
Willie Peyote con Samuele Bersani: Giudizi Universali (Samuele Bersani) 
Arisa con Michele Bravi: Quando (Pino Daniele)
Maneskin con Manuel Agnelli: Amandoti (CCCP di GIOVANNI LINDO FERRETTI)
Annalisa con Federico Poggipollini: La musica è finita (Ornella Vanoni)
Max Gazzè con Daniele Silvestri e la Magical Mystery Band: Del Mondo (Csi di GIOVANNI LINDO FERRETTI)
La Rappresentante di Lista con Dontella Rettore: Splendido Splendente (Donatella Rettore)
Ghemon con Neri per caso: Medley "Le ragazze", "Donne", "Acqua e sapone", "La canzone del sole"
Lo Stato Sociale con Francesco Pannofno ed Emanuela Fanelli: Non è per sempre (Afterhours)
Gaia con Lous and The Yakuza: Mi sono innamorato di te (Luigi Tenco)
Irama Cyrano (Francesco Guccini) solo con il video delle prove
Colapesce – Di Martino Povera Patria (Franco Battiato)
Fulminacci con Valerio Lundini e Roy Paci:  Penso positivo (Jovanotti)
Malika Ayane Insieme a te non ci sto più (Caterina Caselli)
Noemi con Neffa  Prima di andare via (Neffa)
Madame Prisencolinensinainciusol (Adriano Celentano)
Francesco Renga con Casadilego: Una ragione di più (Ornella Vanoni) 
Fasma con Nesli: La fine (Nesli)
Francesca Michielin e Fedez Medley (Calcutta – Del Verde, Daniele Silvestri – Le cose che abbiamo in comune, Jalisse – Fiumi di Parole, Al Bano e Romina – Felicità, Aleandro Baldi – Non Amarmi)
Aiello con Vegas Jones: Gianna (Rino Gaetano)
Bugo con Pinguni Tattici Nucleari: Un'avventura (Lucio Battisti) 
Gio Evan con I cantanti di The Voice Senior: Gli anni (883)
Random con The Kolors: Ragazzo fortunato (Jovanotti)
Coma _ Cose con Alberto Radius e Mamakass: Il mio canto libero (Lucio Battisti)
La Classifica Generale (prima e seconda serata)
I voti della giuria demoscopica ha dato vita a questa classifica di prima e seconda serata:
Classifica Sanremo 2021 – Seconda serata
La giuria demoscopica ha votato anche i 13 cantanti della seconda serata dando vita a una classifica di serata
La classifica Generale (prima e seconda serata)
I voti della giuria demoscopica ha dato vita a questa classifica:
Prima serata
La classifica della prima serata è data dai voti espressi dalla sola giuria demoscopica. Comprende solo 13 cantanti su 26 perchè nelle prime due serate sono stati divisi in due gruppi, alla fine della seconda serata verrà comunicata la classifica della giuria demoscopica dei 26 Campioni.
Il sistema di voto sera per sera
Nelle prime due serate si esibiscono tutti i cantanti, 13 Big la prima sera e 13 la seconda, più gli 8 giovani suddivisi in due sfide diretta da 4. A votare in ciascuna delle due serate è la giuria demoscopica, alla fine della seconda verrà realizzata una classifica dei 13 e poi una Top 10 combinando i voti delle prime due serate.
Nella terza serata, quella dei duetti i Big sono votati dall'orchestra di Sanremo e dei Coristi, le nuove proposte non si esibiranno. Alla fine ci sarà una Top Ten con le medie dei voti delle prime tre serate.
Quarta serata, si esibiscono tutti e votano la Sala Stampa e poi verrà comunicata una classifica parziale dei 26 relativa alla quarta serata. E poi Top Ten con le medie di voto delle quattro serate.
Sabato si esibiscono tutti i 26 Campioni e vota solo il pubblico a casa. Alla fine si farà una media con tutti i voti ricevuti nelle precedenti serate e si avrà una nuova classifica dei 26. I primi tre si esibiranno nuovamente e saranno votati da Giuria Demoscopica (33%), Televoto (34%) e Sala Stampa (33%), azzerando tutti i voti delle serate precedenti. Dopo la votazione si decreterà il vincitore.