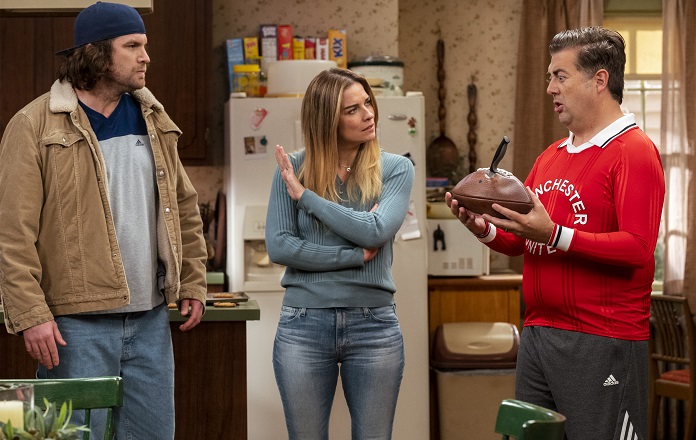 Calendario Serie Tv USA e UK 2022, le date di partenza internazionali delle serie tv
Calendario Serie Tv USA 2022 e UK e non solo, le date di partenza internazionali delle serie tv. Dopo una prima parte con gli ultimi aggiornamenti per non perdere le ultime novità, prende il via il calendario delle serie tv con tutte le date del 2022 giorno dopo giorno mese dopo mese. Anche se negli ultimi anni le serie tv rilasciate in contemporanea in tutto il mondo sono sempre di più, la curiosità per i prodotti che arrivano dall'estero è sempre molto alta e con il nostro Calendario non perderai mai una partenza. Il calendario serie tv in Italia nel 2022 è a parte, invece.
Calendario Serie Tv 2022 sui canali USA/UK – Aggiornamento 3 agosto
La quarta stagione di Atlanta debutterà il 15 settembre su FX. AMC ha annunciato per il 22 agosto la seconda e ultima stagione di Kevin Can F*** Himself. The CW annuncia il ritorno di Stargirl il 31 agosto, mercoledì 5 debutta Kung Fu, giovedì 6 Walker 3 e Walker Independence, lunedì 10 All American 6 e All American Homecoming 2, martedì 11 The Winchesters e Professionals (acquisizione).
NBC annuncia le date di partenza del suo palinsesto autunnale. Su Peacock USA dal 25 agosto Everything I Know About Love; Last Light 8 settembre; 15 settembre Vampire Academy di Julie Plec; 6 ottobre A Friend of the Family; 20 ottobre One of Us is Lying 2; 3 novembre The Capture 2; 10 novembre The Missing (titolo provvisorio); 23 novembre Pitch Perfect Bumper in Berli; 30 novembre Irreverent, 22 dicembre The Best Man The Final Chapters.
CBS annuncia tutte le date di partenza. Peacock ha fissato per il 28 luglio il debutto di The Resort mystery comedy con Cristin Milioti e William Jackson Harper. Fissate le date di partenza d'autunno di ABC il 21 settembre ripartono le comedy e Big Sky, domenica 25 The Rookie, martedì 27 The Rookie Feds, lunedì 3 ottobre The Good Doctor, giovedì 6 ottobre Station 19, Grey's Anatomy e la novità Alaska Daily.
Pretty Little Liars Original Sin debutta su HBO Max il 28 luglio con 3 episodi, poi 2 episodi il 4 e 11 agosto e gli ultimi 3 il 18 agosto. Il 14 settembre su HULU The Handmaid's Tale 5. Tales of the Walking Dead (antologia episodica) debutta il 14 agosto su AMC con i primi due episodi per poi proseguire settimanalmente. Netflix ha annunciato il debutto di The Sandman per il 5 agosto e della terza e ultima stagione di Locke & Key il 10 agosto.
Le date dell'estate FX e Hulu: What We Do in the Shadows 4 dal 12 luglio (premiere con 2 episodi) su FX, American Horror Stories 2 dal 21 luglio su Hulu, Reservation Dogs 2 dal 3 agosto (premiere con 2 episodi) ma su Hulu, The Patient con Steve Carell dal 30 agosto (primi 3 episodi) su Hulu; Little Demon serie animata dal 25 agosto su FXX. Netflix ha annunciato per il 9 settembre il ritorno di Cobra Kai 5.
Agosto 2022
3 Mercoledì
Reservation Dogs s.2 Hulu
5 Venerdì
The Sandman s.1 Netflix
Mercoledì 10
Locke & Key s.3 Netflix
12 venerdì
Non ho mai…s.3 Netflix
This Fool s.1 Hulu
A League of their own s.1 Prime Video
Five Days at Memorial miniserie Apple Tv+
14 Domenica
Tales of the Walking Dead s.1 (antologia) AMC
Chesapeake Shores s.6 Hallmark
Power Book III: Raising Kanan s.2 Starz
17 Mercoledì
Haus of Vicious s.1 BET
18 Giovedì
Pretty Little Liars: Original Sin s.1 (3 ep. finali)
She Hulk s.1 Disney+
The Undecleared War s.1 Peacock
Venerdì 19
Echoes s.1 Netflix
Surfside Girls s.1 Apple Tv+
Bad Sisters s.1 Apple tv+
21 Domenica
House of the Dragon s.1 HBO
22 Lunedì
Kevin Can F**K Himself s.2 AMC
24 Mercoledì
Archer s. 13 FX
25 Giovedì
Little Demon s.1 (animata) FXX
Mike miniserie FX
Everything I Know About Love s.1 Peacock
Star Trek Lower Decks s.3 Paramount+
26 Venerdì
See s.3 Apple Tv+
30 Martedì
The Patient s.1 Hulu (primi 3 episodi)
31 Mercoledì
Andor s.1 Disney+
Stargirl s.3 The CW
Settembre 2022
2 Venerdì
Il Signore degli Anelli – La serie s.1 Amazon Prime Video
7 mercoledì
Tell Me Lies s.1 Hulu
8 Giovedì
The Good Fight s.6 Paramount+
Last light s.1 Peacock
9 Venerdì
Cobra Kai s.5 Netflix
American Gigolò s.1 Showtime (streaming domenica sul canale)
11 Domenica
Monarch s.1 FOX (debutto post NFL poi al martedì)
The Serpent Queen s.1 STARZ
14 Mercoledì
The Handmaid's Tale s.5 Hulu
Heartbreak High s.1 Netflix
15 Giovedì
Vampire Academy s.1 Peacock
Atlanta s.4 FX
16 venerdì
Fate the Winx Saga s.2 Netflix
19 Lunedì
911 s.6 FOX
The Cleaning Lady s.2 FOX
The Neighborhood 5 CBS
Bob Hearts Abishola 4 CBS
NCIS 20 CBS
NCIS Hawaii 2 CBS
Quantum Leap 1 NBC
Martedì 20
The Resident s.6 FOX
FBI 6 CBS
FBI International 2 CBS
FBI Most Wanted 4 CBS
New Amsterdam 5 NBC
Mercoledì 21
The Conners s.5 ABC
The Goldbergs s.10 ABC
Abbott Elementary s.2 ABC
Home Economics s.3 ABC
Big Sky s.3 ABC
Chicago Med s.8 NBC
Chicago Fire s.11 NBC
Chicago PD s.10 NBC
22 giovedì
Law and Order s.22 NBC
Law and Order Organized Crime s.3 NBC
Law & Order SVU s.24 NBC
Domenica 25
I Simpson s.34 FOX
The Great North s.3 FOX
I Griffin s.21 FOX
Bob's Burgers s.13 FOX
Martedì 27
The Rookie: FEDS s.1 ABC
La Brea s.2 NBC
Giovedì 29
Call Me Kat s.3 FOX
Welcome to Flatch s.2 FOX
Young Sheldon 6 CBS
Ghost 2 CBS
So Help me Todd 1 CBS
CSI Vegas 2 CBS
TBD Autunno: American Horror Story 11
Ottobre 2022
2 Domenica
The Equalizer 3 CBS
East New York 1 CBS
The Rookie s.5 ABC
Interview with the Vampire s.1 AMC
Lunedì 3
The Good Doctor s.6 ABC
5 Mercoledì
Kung Fu s.3 The CW
Chucky s.2 Syfy
Reginald the Vampire s.1 Syfy
6 Giovedì
Station 19 s.6 ABC
Grey's Anatomy s.19 ABC
Alaska Daily s.1 ABC
A Friend of the Family s.1 Peacock
Walker s.3 The CW
Walker Independence s.1 The CW
Venerdì 7
The Midnight Club s.1 Netflix
SWAT 6 CBS
Fire Country 1 CBS
Blue Bloods 13 CBS
9 Domenica
NCIS Los Angeles 14 CBS
10 Lunedì
All American s.6 The CW
All American. Homecoming s.2 The CW
Martedì 11
The Winchesters s.1 The CW
14 Venerdì
High School (primi 4 episodi di 8) Freeve
20 Giovedì
One of Us Is Lying s.2 Peacock
Novembre 2022
4 Venerdì
Young Rock s.3 NBC
Lobex vs Lopez s.1 NBC
6 domenica
Le Relazioni Pericolose s.1 STARZPLAY
10 Giovedì
The Missing s.1 Peacock
13 Domenica
Yellowstone s.5 Paramount
Tulsa King s.1 Paramount+
23 Mercoledì
Pitch Perfect Bumper in Berlin
30 Mercoledì
Willow s.1 Disney+
Irreverent s. 1
TBD
The Crown s.5 Netflix
Dicembre 2022
22 Giovedì
The Best Man: The Final Chapters
Le date precedenti
Luglio 2022
1 Venerdì
The Terminal List s.1 Prime Video
Stranger Things s.4B Netflix
3 domenica
P-Valley s. 2 STARZ
6 Mercoledì
Maggie s.1 Hulu
7 Giovedì
Good Trouble s.4 Freeform
8 Venerdì
The Boys s.3 (finale) Amazon Prime Video
11 Lunedì
Better Call Saul 6B AMC
12 Martedì
What we Do in the Shadows s.4 FX
13 Mercoledì
Everything's Trash s.1 Freeform
14 Giovedì
Resident Evil s.1 Netflix
Domenica 17
Blood & Treasure s.2 Paramount+ (ep. settimanali)
Mercoledì 20
grown-ish s.5 Freeform
Virgin River s.4 Netflix
21 Giovedì
American Horror Stories s.2 Hulu
27 Mercoledì
High School Music: The Musical: The Series
28 Giovedì
Pretty Little Liars: Original Sin s.1 (3 ep.) HBO Max
29 Venerdì
Uncoupled s.1 Netflix
31 Domenica
City on a Hill s.3 Showtime
Giugno 2022
2 Giovedì
The Orville s.3 HULU
Coronoer s. 4 The CW
3 Venerdì
The Boys s.3 Amazon Prime Video (primi 3 episodi)
Physical s.2 Apple Tv+
Domenica 5
Fear the Walking Dead s.7 finale AMC
6 Lunedì
Roswell, New Mexico s.4 The CW
In the Dark s.4 The CW
Irma Vep mini HBO
7 Martedì
All Rise s.3 OWN
8 Mercoledì
Ms. Marvel Disney+
9 giovedì
Queer as Folk s.1 Peacock
10 Venerdì
For all manind s.3 Apple Tv+
Fairfax s.2 Prime Video (animata)
First Kill s.1 Netflix
12 Domenica
Evil s.3 Paramount+ (settimanale)
Dark Winds AMC e AMC+ (settimanale)
15 Martedì
Love,Victor s.3 (tutti gli episodi, ultima stagione) Hulu
God's Favorite Idiot s.1 Netflix
16 Giovedì
The Old Man s.1 FX (2 episodi)
Rutherford Falls s.2 Peacock
17 Venerdì
The Summer I turned Pretty s.1 Prime Video
22 Mercoledì
The Umbrella Academy s.3 Netflix
Martedì 21
Motherland: Fort Salem s.3 e ultima Freeform
23 Giovedì
The Bear s.1 Hulu (tutti gli episodi)
24 Venerdì
Loot s.1 (primi 3 episodi) Apple Tv+
The Chi s.5 Showtime
26 domenica
Westworld s.4 HBO
28 Martedì
Only Murders in the Building s.2 Hulu
29 Mercoledì
The Upshaws s.2 Netflix
Maggio 2022
1 Domenica
Duncanville s.3 Fox
I love that For You s.1 Showtime
2 Lunedì
The Endgame s.1 NBC Finale
3 Martedì
The Girl From Plainville mini Hulu Finale
4 Mercoledì
Moon Knight Finale Disney+
5 Giovedì
Star Trek: Strange New Worlds s.1 Paramount+
Girls5Eva s.2 Peacock
The Pentaverate s.1 Netflix
The Staircase miniserie HBO Max
Call Me Kat s.2 finale Fox
Julia s.1 finale HBO Max
Star Trek Picard s.2 finale Paramount+
6 Venerdì
Tehran s.2 Apple Tv+
The Wilds s.2 Prime Video
Bosch: Legacy s.1 ImdbTv
Blue Bloods s.12 finale CBS
Magnum P.I. s. 4 finale CBS
Outer Range s.1 finale Prime Video
8 domenica
Winning Time: The Rise of the Lakers Dynasty s.1 HBO finale
9 Lunedì
Candy miniserie Hulu (finale il 13)
Breeders s.3 FX
12 Giovedì
Hacks s.2 HBO Max
13 Venerdì
The Essex Serpent Apple Tv+
Avvocato di Difesa – The Lincoln Lawyer s.1 Netflix
15 Domenica
Conversations with Friends (tutti gli episodi) Hulu/BBC 3
The Time Traveler Wife s.1 HBO
16 Lunedì
911 s.5 finale Fox
911 Lone Star s.3 finale Fox
The Good Doctor s.5 final ABC
Martedì 17
The Resident s.5 finale Fox
Mr Mayor s.2 Finale NBC
Mercoledì 18
A Million Little Things s.4 finale ABC
The Goldbergs finale s.9 ABC
Home Economics finale s.2 ABC
The Conners s.4 finale ABC
The Wonder Years s.1 finale ABC
19 Giovedì
Angelyne miniserie Peacock
Atlanta s.3 finale FX
Halo s.1 finale Paramount+
Station 19 s.5 Finale ABC
Big Sky s.2 finale ABC
Law and Order SVU s.23 NBC finale
Law and Order Organized Crime s.2 finale NBC
Young Sheldon s.5 finale CBS
United States of Al s.2 finale CBS
Made for Love s.2 finale HBO Max
20 Venerdì
Now and Then s.1 Apple Tv+
Night Sky s.1 Prime Video
22 domenica
I Griffin s.20 finale Fox
The Great North s.2 finale Fox
I Simpson s.33 finale Fox
Bob's Burger s.12 finale FOX
NCIS Los Angeles s. 13 finale CBS
SWAT s.5 finale CBS
23 Lunedì
All American s.4 finale The CW
All American Homecoming s.1 finale The CW
NCIS s.19 finale CBS
NCIS Hawaii s.1 finale CBS
The Neighborhood s.4 finale CBS
Bob's Heart Abishola s.3 finale CBS
24 martedì
FBI s.4 finale CBS
FBI International s.1 finale CBS
FBI Most Wanted s.3 finale CBS
New Amsterdam s.4 finale NBC
This is Us Finale NBC
25 Mercoledì
Chicago Fire s.10 finale NBC
Chicago PD s.9 finale NBC
Chicago Med s.7 finale NBC
26 Giovedì
The Flight Attendant s.2 HBO Max
Grey's Anatomy s.18 finale ABC
Bull finale CBS
27 Venerdì
Obi Wan Kenobi s.1 Disney+
Stranger Things s.4A Netflix
The Blacklist s.9 finale NBC
29 Domenica
61 street AMC Finale
30 Lunedì
We own this city finale HBO
31 Martedì
Tom Swift s.1 The CW
Pistol Hulu
Aprile 2022
1 Venerdì
Slow Horses Apple Tv+
L'ultimo Bus del mondo s.1 Netflix
6 Mercoledì
The Hardy Boys s.2 Hulu
Giovedì 7
Tokyo Vice s.1 HBO Max (3 episodi)
8 Venerdì
Woke s.2 (tutti gli episodi) Hulu
iCarly s.2 Paramount+
Elite s.5 Netflix
10 Domenica
61st street AMC
Gentleman Jack s.2 BBC One
Killing Eve s.4 Finale di serie
Super Pumped s.1 Finale di stagione
11 Lunedì
Chad s.2 TBS
12 Martedì
Abbott Elementary s.1 ABC Finale di stagione
Hard Cell s.1 Netflix
The Thing About Pam NBC Finale
Compulsion s.1 Channel 5
Derry Girs s.3 ITV
Hullraiser s.1 ITV
13 Mercoledì
Una suocera tra i piedi s.1 Netflix
14 Giovedì
Killing It s.1 Peacock
The Garcias s.1 HBO Max
Minx s.1 Finale HBO Max
15 Venerdì
Roar antologia Apple Tv+
Outer Range s.1 Prime Video
Anatomia di uno scandalo miniserie Netflix
Sheel s.1 Netflix
17 Domenica
The First Lady s.1 Showtime
Power Book Iv: Force s.1 finale STARZ
Shining Vale s.1 finale STARZ
18 Lunedì
Better Call Saul 6A AMC
Martedì 19
Mayans MC s.4 FX
Black-ish finale di serie ABC
20 Mercoledì
Russian Doll s.2 Netflix
Yakamoz s-245 s.1 Netflix
Snowfall s.5 FX
21 giovedì
The Flight Attendant s.2 HBO Max
Ghosts s.1 Finale CBS
22 Venerdì
Heartstopper s.1 Netflix
We Crashed finale Apple Tv+
24 Domenica
Billy the Kid s.1 Epix
Barry s.3 HBO
The Man Who Fell the Earth s.1 Showtime
The Baby s.1 HBO
Gaslit mini STARZ
25 Lunedì
We Own this City HBO
Better Things s.5 finale FX
26 martedì
Welcome to Flatch s.1 FOX finale
28 giovedì
The Offer miniserie Paramount+ (primi 3 episodi)
Tokyo Vice finale HBO Max
Under the Banner of Heaven s.1 Hulu
Made for Love s.2 HBO Max
29 Venerdì
Shining Girls s.1 Apple Tv+ (primi 3 episodi)
Ozark 4B Netflix
Undone s.2 Prime Video
Grace and Frankie s.7B Netflix
Slow Horses s.1 finale Apple Tv+
Le Serie Tv a Marzo 2022
1 Mercoledì
Promised Land s.1B HULU
3 Giovedì
The Dropout miniserie Hulu
Star Trek: Picard s.2 Paramount+
Our Flag Means Death s.1 HBO Max
4 Venerdì
Diabolical – The Boys (corti animati 12-14 minuti) Prime Video
6 Domenica
Outlander s.6 STARZ
Shining Vale s.1 STARZ
When Calls the Hearts s.9 Hallmark
8 Martedì
The Thing About Pam miniserie NBC
9 Mercoledì
Kung Fu s.2 The CW
Good Trouble s.4A Freeform
The Last Kingdom s.5 Netflix
10 Giovedì
That Dirty Black Bag s.1 AMC
The Orville s.3 Hulu
11 Venerdì
Charmed s.4 The CW
Gli ultimi giorni di Tolomeo Grey mini Apple Tv+
Upload s.2 Prime Video
15 Martedì
Young Rock s.2 NBC
Mr Mayor s.2 NBC
17 Giovedì
Welcome to Flatch s.1 Fox (primi 7 ep. su Hulu e on demand)
Minx s.1 HBO Max
DMZ s.1 HBO Max
18 Venerdì
WeCrashed Apple Tv+
Life & Beth s.1 Hulu (tutti gli episodi)
20 Domenica
Riverdale s.6B The CW
21 Lunedì
911 5B Fox
24 Giovedì
Atlanta s.3 FX
25 Venerdì
Bridgerton s.2 Netflix
Pachinko s.1 Apple tv+
29 Martedì
The Girl From Plainville miniserie Hulu (primi 3 episodi)
30 Mercoledì
Moon Knight s.1 Disney+
31 giovedì
How We Roll s.1 CBS
Julia s.1 HBO Max
Serie Tv USA e non solo Febbraio 2022
1 Martedì
Monarch s.1 Fox (regular slot)
The Resident s.5B Fox
Raising Dion s.2 Netflix
2 Mercoledì
Pam & Tommy miniserie HULU
South Park s.25 Comedy Central
3 Giovedì
And Just Like that finale HBO Max
Murderville s.1 Netflix
4 Venerdì
Reacher s.1 Amazon Prime Video
Sweet Magnolias s.2 Netflix
Suspicion Apple Tv+
6 Domenica
Power Book IV Force STARZ
Claws s.4 Finale TNT
Power Book II Ghost s.2 Finale STARZ
9 Mercoledì
The Book of Boba Fett s.1 Finale Disney+
10 Giovedì
The Girl Before HBO Max
Star Trek: Discovery 4B Paramount+
Venerdì 11
Inventing Anna miniserie Netflix
Dollface s.2 HULU
13 Domenica
The Fresh Prince of Bel-Air s.1 Paramount+ (ep. settimanali)
18 Venerdì
The Marvelous Mrs. Maisel s.3 Prime Video
Severance Apple Tv+
Space Force 2 Netflix
20 Domenica
The Walking Dead s.11B
From s.1 Epix
21 Lunedì
The Endgame s.1 NBC
All American Homecoming s.1 The CW
Promised Land s.1 ultimo episodio su ABC
23 Mercoledì
A Million Little Things 4B ABC
24 Giovedì
Law & Order s.21 NBC
Grey's Anatomy 18B ABC
Station 19 5B ABC
Big Sky 2B ABC
Snowfall 5 FX
25 Venerdì
Vikings Valhalla s.1 Netflix
27 Domenica
Super Pumped: The Battle for Uber Showtime
Killing Eve s.4 BBC America
Euphoria s.2 finale HBO
Peaky Blinders 6 BBC
28 Lunedì
The Good Doctor s.5B ABC
Le serie tv a Gennaio 2022
1 Sabato
The Tourist s.1 BBC One
2 Domenica
The Rookie 4×10 ABC
NCIS Los Angeles 13×07 CBS
Yellowstone s.4 Finale di stagione Paramount Network
3 Lunedì
911 Lone Star s.3 Fox
The Cleaning Lady s.1 Fox
Kenan s.2 NBC
NCIS 19×10 CBS
NCIS Hawaii 1×10 CBS
4 Martedì
black-ish s.8
Abbott Elementary s.1 ABC (regular slot)
American Auto s.1 NBC (regular slot)
Gran Crew s.1 NBC (regular slot)
This is Us s.6 NBC
New Amsterdam 4×11 NBC
FBI 4×10 CBS
FBI Most Wanted 3×10 CBS
FBI International 1×10 CBS
Toast of Tinseltown s.1 BBC One
Queens s1x09 ABC
5 Mercoledì
Good Sam s.1 CBS
Chicago Fire 10×10
Chicago PD 9×10
Chicago Med 7×10
6 Giovedì
Women of the movement miniserie ABC
7 Venerdì
Search Party s.5 HBO MAX
A Discovery of Witches s.3 Sky Uk
Delitti in Paradiso s.1 BBC One
9 Domenica
Pivoting s.1 Fox (puntate speciali)
Call Me Kat s.2 Fox (puntate speciali)
Euphoria s.2 HBO
The Righteous Gemstones s.2 HBO
Dexter New Blood Finale di stagione Showtime
Mayor of Kingstown s.1 Finale di Stagione Paramount+
11 Martedì
The King of Napa s.1 OWN
Superman & Lois s.2 The CW
Naomi s.1 The CW
Rules of the Game s.1 BBC One
12 Mercoledì
The bay s.3 ITV
13 Giovedì
Pivoting s.1 Fox (regular slot)
Call Me Kat s.2 Fox (regular slot)
Peacemaker s.1 HBO Max
Station Eleven mini finale HBO Max
Wolf Like Me s.1 Stan – Peacock
14 Venerdì
Archive 81 s.1 Netflix
After Life s.3 Netflix
The Expanse s.6 Finale Prime Video
16 Domenica
Somebody Somewhere
18 Martedì
How I Met Your Father s.1 Hulu
20 Giovedì
Single Drunk Female s.1 Freeform
Women of the Movement mini finale ABC
21 Venerdì
Ozark s.4A Netflix
As We See it s.1 Amazon Prime Video
Servant s.3 Apple Tv+
Domenica 23
Billions s.6 Showtime
24 Lunedì
Promised Land s.1 ABC
Snowpiercer s.3 TNT
American Dad s.17 TNT
The Gilded Age s.1 HBO
25 Martedì
The Resident s.5B Fox
26 Mercoledì
Resident Alien s.2A Syfy USA Network
Astrid & Lilly Save the World s.1 Syfy
27 Giovedì
Hotel Portofino BritBox
28 Venerdì
The Afterparty s.1 Apple Tv+
In From the Cold s.1 Netflix
La donna nella casa di fronte alla ragazza della finestra Netflix
30 Domenica
Monarch s.1 Fox (slot speciale)
Dicembre 2021
1 Mercoledì
Lost in Space 3 Netflix
It's Always Sunny in Philadelphia 15 FXX
3 Venerdì
SWAT 5 (ritorno dopo la pausa) CBS
Alex Rider 2 IMDb Tv
Harlem s.1 Amazon prime Video
7 Martedì
Abbott Elementary s.1 ABC
9 Giovedì
And Just Like That HBO Max
10 Venerdì
The Expanse 6 Amazon Prime Video
Lunedì 13
American Auto special NBC
Martedì 14
Grand Crew special NBC
Mercoledì 15
Young Rock/Mr Mayor/Kenan speciali natalizi NBC
16 Giovedì
Station Eleven miniserie HBO Max
MacGruber s. 1 Peacock
17 Venerdì
With Love s.1 Amazon
The Witcher s.2 Netflix
19 Domenica
1883 s.1 Paramount+
Claws 4 TNT
20 Lunedì
Dynasty 5 The CW
21 Martedì
Fantasy Island episodio speciale Fox
22 Mercoledì
Emily In Paris s.2 Netflix
29 Mercoledì
The Book of Boba Fett s.1 Disney+
31 Venerdì
Cobra Kai s.4 Netflix
Stay Close miniserie Netflix